Lets start with the Economy Jobs Border Security & Greater Access to the American Dream
By Victoria Lynch
WASHINGTON D.C. (Texas Insider Report) President Donald Trump is still winning on issues Americans care about the most: the economy jobs safety abroad borders security and greater access to the American dream for all.
On top of that it appears that Democrats and progressives have not learned any lessons from the 2016 Election and why they are destined to lose again in 2020.
Lets take it from the top:
Trump Delivers for the Rust Belt

: Manufacturing jobs grew at the fastest rate in 23 years and the unemployment rate for Americans without a high school diploma reached the lowest point ever recorded. The Wall Street Journal reports that wages rose 3.1 the biggest jump since 2009 and that low-skilled workers are among the biggest beneficiaries" (Thiessen 2018).

Middle-Class Wages Rise

: Incomes in general soared in 2018 with average hourly earnings finally eclipsing 3 percent growth for the first time since before the Great Recession. The news is even better for blue-collar workers who now realize wage growth above that of white-collar workers for the first time in nearly a decade (Cortes 2018). Trump continues efforts to bolster middle America. Gas prices are their lowest in more than twelve years.

Trump Stands Up to The Media & Cultural Elite

: He circumvents a hostile media by going directly to the American people through social media. Trump has skipped the past two correspondents dinners since he took office choosing to be with his supporters at MAGA rallies attended by tens of thousands of supporters instead. Did I mention that Trump still prefers sending annual Christmas cards in lieu of holiday greetings? Political correctness is no match for this president.

Tough Immigration Enforcement

: A week into his presidency he signed a revised executive order suspending the US refugee program and entry for travelers from six mostly Muslim countries. After a contentious court battle a version of Trumps ban was left standing. He stepped up raids on immigrants in the country illegally especially on violent illegal immigrant offenders (Conradis 2017). Trump rescinded the DAPA (Deferred Action for Parents of Americans and Lawful Permanent Residents) program. He is targeting MS-13 gangs. He is holding the line with migrant caravans as he continues to seek ways to fund our unprotected southern border.

Trump Makes Big Gains with Minorities & Women

: Historic black college university initiative. Women in Entrepreneurship Act. Increasing minority jobs: black joblessness reached record levels in 2018. Hispanic joblessness rates under 5 percent for thirteen months under Trump (Cortes 2018). Signed an order moving the HBCU (historically black college and universities) offices back from the Education Department to the White House. Signed two resolutions one encouraging women at NASA and another promoting women in entrepreneurship.

2017 Tax Cut Stimulates Economic Growth & Reduces ObamaCare Impacts

: In 2017 Trump had his first major legislative victory: the passage of the Republicans tax-cut bill which slashes the corporate tax rate from 35 percent to 21 percent and reduces individual rates. Most of the key breaks are aimed to relieve some of the tax burden of the middle class and small- and medium-business owners (make up over 60 percent of all-American businesses). Its the biggest tax legislation to be approved by Congress since 1986 and it also eliminated the Obamacares mandate that individuals buy insurance (Conradis 2017).

Trumps Business Savvy Pays Big Dividends

: American consumer confidence is highest since 2000. DJIA climbed from 19121.60 when he took office to a historic high in April 2019 at 26384.63. Median household income is at a seven-year high. Trump delivers on promise of job creation. More than 5.8 million jobs created and counting. Trump encouraged the country to once again buy American and hire American. The unemployment rate is the lowest since May 2007. Mortgage applications for new homes rise to a seven-year high. Americans are starting to reach for the dream again. He signed an executive order intended to boost the agriculture industry and participated in a Farmers Roundtable. Jump-started NASA.

Strikes Masterful Blow Against ISIS

: Knocking the hell out of ISIS" and making them pay. He struck Syria again and eliminated the last vestiges of the Islamic States physical caliphate. In December 2018 US-backed fighters captured Hajin the last pocket of territory held by the Islamic State (Thiessen 2018). This commander in chief upholds his promise to defend America against enemies at home and abroad.

Bipartisan Work on Capitol Hill

: Despite the animosity from the left and their constant hyperbole and endless challenging of his leadership Trump got a lot done on a bipartisan basis including criminal justice reform opioid and sex-trafficking legislation and a new right-to-try law giving dying Americans access to experimental medications (Thiessen 2018). Trump does whats right for America.

Respect from a Tyrant

: In the six months after the Singapore summit with North Korea Trump has made no concessions to North Korean dictator Kim Jong-Un and refused to lift sanctions unfreeze North Korean assets or offer Pyongyang diplomatic recognition and he imposed new sanctions on members of Kims inner circle (Thiessen 2018). This was an amazing display of international diplomacy.

Compassion for Those Unjustly Imprisoned

: He has secured the release of 19 people including 16 Americans from foreign captivity. Trump did it without releasing terrorist leaders or sending cash to rogue regimes. Thats more captives freed in two years than President Barack Obama got released in eight (Thiessen 2018). This is great for America.

Conservative Supreme Court Justices

: Brett Kavanaugh and Neil Gorsuchs confirmation to the Supreme Court. Trump has confirmed a record 85 judges in his first two years as president. Two justices 30 appellate court judges and 53 district judges. A big win for conservatives constitutionalists and evangelicals.

$89 Billion Saved in Regulation Rollbacks

: A big win for business owners. A reason for much of the current confidence in the DJIA. Trump signed an executive order cutting regulations for small businesses and moved forward with plans to repeal the Clean Power Plan (Conradis 2017). Signed an executive order instructing agencies that whenever they introduce a regulation they must first abolish two others.

U.S.-Mexico-Canada (USMCA) Trade Deal

: Trump proved that America welcomes equitable global commerce by cementing a badly needed modernization of NAFTA. The USMCA provides a template for other such trade pacts and effectively isolates Chinas increasingly untenable posture (Cortes 2018). Unfair trade deals are dissolved.

Trumps Ends Obamas Disastrous Iran Nuclear Deal

: The Tehran regime now faces a US leadership determined to thwart its tyranny and prevent its nuclearization and threats to Israel and other allies in the region (Cortes 2018).

Moving the U.S. Embassy to Jerusalem

: Trump proved once again how differently he governs compared to Washington norms. Past presidents promised for decades to make this move and US law has required it since 1995 but only President Trump made good on his pledge honored our ally and recognized that Jerusalem is the capital of Israel (Cortes 2018). This move will strengthen his support from his base immensely.

Record American Oil & Gas Production

: In 2018 the US surpassed Russia and Saudi Arabia to become the worlds largest producer of crude oil. Through aggressive regulatory relief and pro-energy moves like green lighting the Keystone XL pipeline President Trump paved the way for an independent energy (Cortes 2018).

Confronting China

: Much of the heartland anxiety that vaulted Trump into the Oval Office emanates directly from the abusive economic warfare waged by China for decades against the United States. At long last those workers find a champion in Donald Trump who slapped serious tariffs upon Beijing and finally forced the regime to negotiate fairly. America now embraces its strong bargaining position (Cortes 2018). Trump has more backbone than what we have seen in US presidents for years. Who knew how fierce he would be on the international stage?

Cleaning Up the Swamp

: Signed executive orders to restructure the National Security Council and Homeland Security Council and to extend bans on ex-administration officials working as lobbyists to five yearsincluding a lifetime ban on ex-officials lobbying for foreign countries (Stone 2017).

Americans Believe in Redemption & 2nd Chances Prison Reform

: Trump pushed for and succeeded in changing the prison system to focus on reduced recidivism maintaining proximity to families while incarcerated receive relevant vocational training provide medical and mental health assistance and reform sentencing which disproportionately impacts minority communities (Mikelonis 2018).
As evidenced by the slate of candidates running for the Democrat Presidential Nomination Democrats apparently continue to believe they can impose their will and cultural mandates on the rest of America regardless of the rest of the insignificant Americans who dont agree.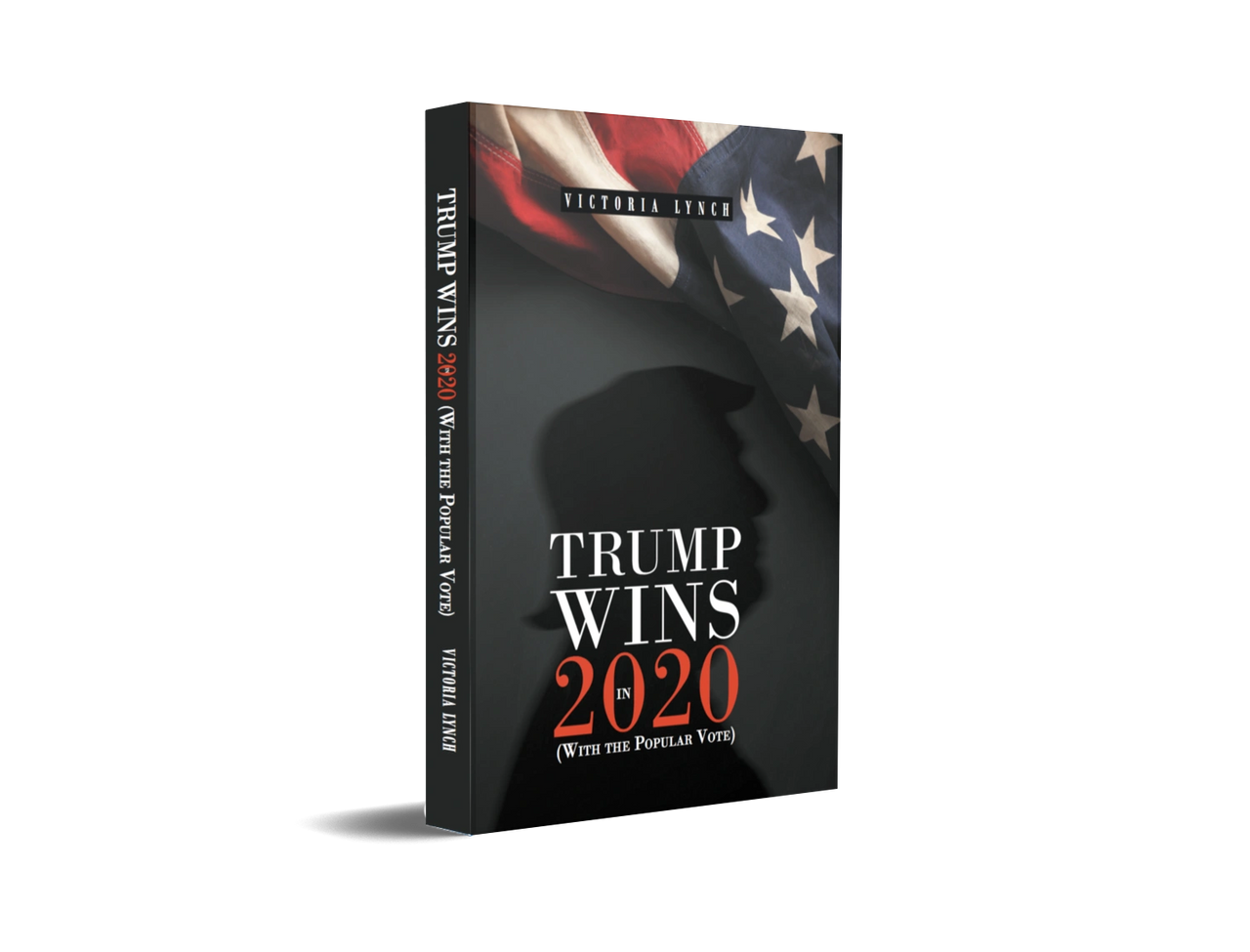 Because of the reasons listed the middle class will remind them once again that their voices matter most.
Trump Wins in 2020 by Victoria Lynch is available for purchase on Amazon now! Buy your copy today!