Mainstream Media had worked overtime in days leading up the event in effort to shamefully undermine sentiment for it
WASHINGTON D.C. (Texas Insider Report) According to Nielsen Media Research Fox News had 4.8 million viewers for its coverage of President Donald Trumps 4th of July Salute to America speech which topped NBCs prime-time coverage of the 4th of July Fireworks Show from New York City which averaged 3.8 million total viewers.
Fox News 4.8 million viewers marks the highest ratings the network has registered for a July 4th event in its almost 23-year history.
https://www.facebook.com/FoxNews/videos/340287390235763/
Breaking any kind of ratings record at the Fox News Channel is significant given that the network has been the 800-lb. gorilla on the cable news block for a very long time.
The mainstream media shamefully worked overtime in the days leading up the event in an effort to undermine sentiment for it. That coverage was viewed by many Americans to be petty mean-spirited and based upon Nielsen Researchs viewership numbers ultimately appear to have backfired and been proved to be hugely unsuccessful.
And after mainstream medias estimates of actual in-person attendees appeared to be inaccurate and substantially smaller than what was seen during coverage of the event even the left-leaning PolitiFact rated their crowd-size claims as False.
Pictures from the Salute to America also dispelled the estimates: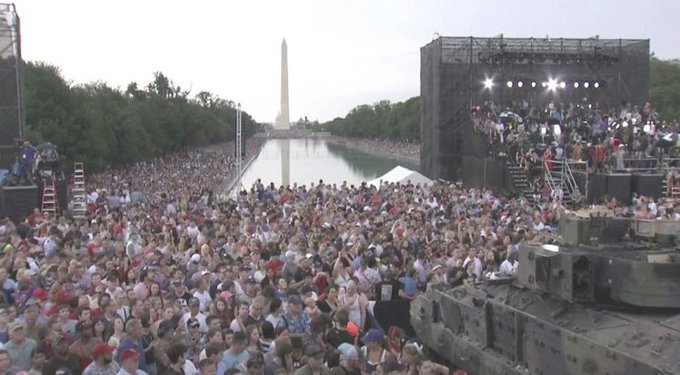 In the 25- to 54-year-old demographic sought by advertisers Fox News averaged 793000 viewers during the presidents remarks while CNN averaged 353000 in the same category.
CNN carried only President Trumps speech in front of the Lincoln Memorial live and averaged a total 1.5 million viewers during its coverage compared to Fox News 4.8 million viewers overall.
On Monday citing the parade and events success President Trump announced he plans to hold a similar 4th of July event in 2020 which sparked an immediate backlash from Democrats who said they believe the event is too expensive.
It was a wonderful day for all Americans and based on its tremendous success were just making the decision and I think we can say weve made the decision to do it again next year. And maybe we can say for the foreseeable future Trump said at the White House on Monday.
The Interior Department and Defense Department have not yet provided specifics around the cost of the 2019 event.